Jerwood Drawing Prize 2017 –
20th August 2017
I am delighted that my drawing ' The loneliness of being'  has been shortlisted for the Jerwood drawing prize 2017.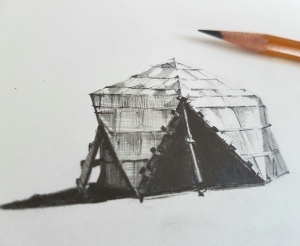 The largest and longest-running annual open exhibition for drawing in the UK, presented in collaboration with Bath Spa University. In 2017 works have been selected for inclusion by Dr David Dibosa, writer, researcher and Reader in Museology at the University of the Arts London, Helen Legg, Director of Spike Island and Michael Simpson, artist.
Selected from original drawings, the Jerwood Drawing Prize has established a reputation for its commitment to championing excellence, and to promoting and celebrating the breadth of contemporary drawing practice. The exhibition provides a platform to showcase the work of UK-based drawing practitioners, from student to established, and as a project helps to define a wider understanding of the role and value of drawing in creative practice.
Exhibiting artists: David Ainley, Elisa Alaluusua, Pam Aldridge, Becky Allen, Kate Aspinall, Adam Bainbridge, Andy Bannister, Helen Barff, Dail Behennah, Kelly Best, Kate Black, Alice Blackstock, Abigail Booth, Becky Brewis, Lucinda Burgess, Eric Butcher, Stephen Carter, Ian Chamberlain, Lewis Chamberlain, Dean Claydon, Susannah Douglas, Dickon Drury, Richard Ducker, Jim Dunkley, James Fowkes, Nigel Frost, Christopher Fry, Lesley Hicks, Jim Hobbs, Marianne Holm Hansen, Caroline Holt-Wilson, Susie Howarth, Ronnie Hughes, Jeremy Hutchison, Julia Hutton, Jonathan Huxley, Alexander Johnson, Ben Johnson, Will Kippax, Jason Lane, Gary Lawrence, Carali McCall, Grace McMurray, Tahira Mandarino, Ana Mendes, Jasone Miranda-Bilbao, Jade Montserrat, Dejan Mrdja, David Murphy, Susan Petticrew, Helen Rawlinson, Giulia Ricci, Fiona G Roberts, Caragh Savage, Carly Seller, Tom Sewell, Laurie Steen, Rebecca Swindell, David Symonds, Sally Taylor, Ben Wade, Barbara Walker, Eleanor Wood, Sally Wood, and Andrea V Wright.
The First Prize of £8,000, Second Prize of £5,000 and two Student Awards of £2,000 each, will be announced and awarded at the preview on 12 September 2017. A new prize – The Evelyn Williams Drawing Award, worth £10,000 – will also be awarded to an artist selected for the 2017 exhibition. The Award will support an individual artist with a significant track record to develop and realise a body of drawings for a new solo exhibition.